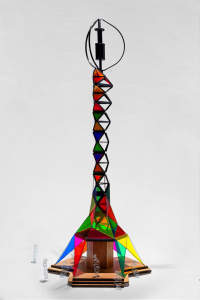 Legislation (Paris Agreement 2020) and social responsibility require urgency in the further reduction of CO2 emissions. Also within the festival world. Festivals are becoming more and more successful in reducing waste, but the biggest polluter, the diesel generators, are ubiquitous placed behind fences.
A green solution for festivals, GEM (Green Energy Mill) was presented at Eurosonic Noorderslag in Groningen on 17 January 2019. A hybrid, fold-out, eye-catching tower that makes festivals more sustainable.
The tower can be up to 21 meters high and has a diameter of 10 meters as a base. The tower generates energy through solar panels and a wind turbine and the energy is stored in a battery.
Regardless of the weather conditions, the festival is provided with sustainable energy. In addition, the GEM-tower is an eye-catcher. Festivals can use the colored LSC panels to give their own interpretation to the appearance of the tower.
And last but not least, the GEM-tower will create more awareness on sustainability.
The year 2019 was about building and testing the first prototype of the GEM-tower. In 2020 GEM will go on tour in Europe, extended with green energy solutions (GEM-grid) to increase the energy supply provided by GEM. Testing GEM on multiple festivals to evaluate, improve and incorporating additional features and benefits. The goal is that GEM can be deployed widely in 2021.
The GEM-tower is an initiative of PowerVIBES, an European Interreg NWE project. TU/e initiated the build of this 'Hybrid Unit', together with festivals and other relevant partners.